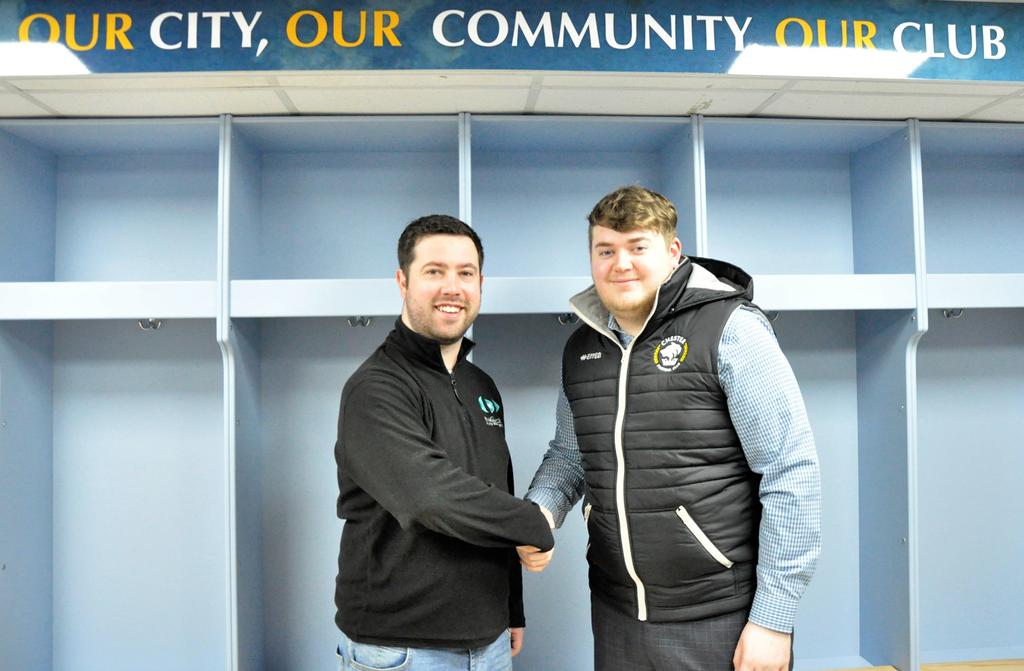 BuyCleverStuff are proud to announce our support and in-house Media Sponsorship of local National League North football side, Chester FC.
The deal sees BuyCleverStuff take sponsorship of Chester FC TV – the official club YouTube channel – and also the extremely popular commentary service Seals Live.
Both outlets remain free for fans to use, with the sponsorship aiding the Media Team with vital equipment and supplies in order to make these services even better for supporters.
At home games in the immediate term, Seals Live will now feature pre-match and post-match interviews; as well as music integrated throughout.
Make sure you tune in at www.mixlr.com/chesterfc starting this Saturday against Boston United!
A Saltney-based company, BuyCleverStuff will be known to fans as the company who installed the fantastic new PA system following infrastructure damage last year.
"Proud to support Chester FC"
Jon Hoyle, Director of BuyCleverStuff said: "We're immensely proud to support Chester FC as a local business, and in particular support the media team to develop and progress even further, the well-established coverage they provide in-house to supporters at all fixtures."
Rob Jeffries, Digital Marketing Manager of BuyCleverStuff: "We're renowned at BuyCleverStuff for being there to help with home audio-visual projects, whether it's at the start, middle or end of renovation plans.
"In a sense, this has been the same with our support of Chester FC. We were keen to help the club through the initial start of the season with the PA damage. In the middle, we enjoyed adding with our contributions to the Retro Game versus Darlington.
"Now going into this final stretch, BuyCleverStuff hopes that every Blues fan gets on board, tunes in to Seals Live for full commentary, as well as highlights and more on Chester FC TV to get behind the Blues, and get the job done to get back into the National League."
Chester FC "thrilled" by local business support
Chester FC Media and PR Officer Albert Davies said: "We are absolutely thrilled to have BuyCleverStuff on board with the club.
"Jon, Rob and the rest of the team have been hugely supportive to myself, the media team and the club. They tick so many boxes as they are a local business doing their bit for the club, and they understand what we are trying to do on the media side within the club.
"We hope that this deal runs for many years to come and that you can all see further improvement on what already are successful audio and video platforms."
Chester FC are a completely fan-owned football club, established in 2010, with every supporter who is signed up to the City Fans United group owning one individual equal share in the club.
They currently play their home matches at the Swansway Chester Stadium on Bumpers Lane, Chester.
BuyCleverStuff has been one of the leading specialist audio-visual suppliers online in the UK since 2006.
Supplying home audio visual equipment from simple radio solutions ideal as gifts, through to integrated home audio and visual systems that are perfect to install during renovations.
With years of knowledge and focus on offering the best products, service and price, alongside thousands of 5-star recommendations and many repeat customers; we are a leading online retailer in our sector with a massive reputation for service, and quality products at exceptional value for money.
Our philosophy to product selection is that products sold are only products that we would want to purchase and own ourselves.
BuyCleverStuff would like to put on record our thanks to Albert Davies, the Chester FC Media Team, Chester FC chairman David Harrington-Wright, the board of Chester FC and City Fans United and absolutely everyone associated with Chester FC - most importantly the fans who are at the heart of the club.
We wish Chester FC all the best for the rest of this season as they look to gain promotion to the National League.