In the last six months, BuyCleverStuff has been fortunate enough to garner a fantastic relationship with Chester FC.
As a company, we've been in business since 2006 and have quickly become one of the country's biggest online audio visual specialists catering to the general public when it comes to home audio visual equipment.
When flood damage occurred at our local football club, it put a halt on the start of their season which was looking extremely positive.
Whilst slightly outside of our normal day-to-day business, we were only to happy to advise Chester FC, members of the Vanarama National League North, and then agree to carry out the task of supplying their new PA system which was vital - alongside the CCTV system from Jackson Fire & Security – to the staging of fixtures.
You may have seen our involvement in the Retro Day game against Darlington FC, both in the lead-up and on the day itself at the start of December, where we gave away some fantastic retro-style audio products from our soundmaster home audio range.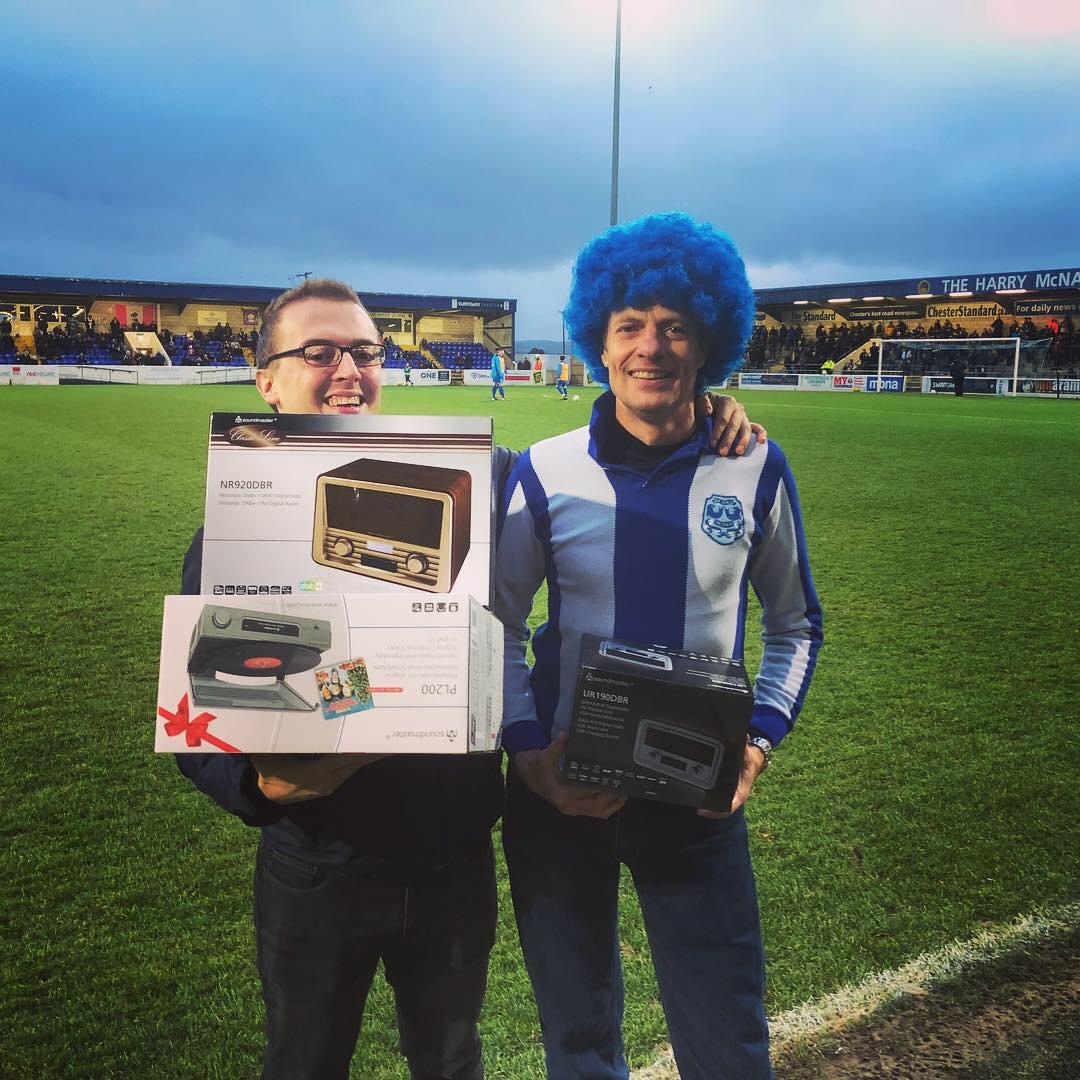 Two great sports who took part in the halftime penalty competition to win some fantastic soundmaster® Home Audio prizes at Chester FC versus Darlington FC on Saturday 1st December 2018
It got us thinking though – what more can we do as a local business to help Chester FC?
The fantastic online initiative from the Chester FC Community Trust where if you purchase on Amazon via "Amazon Smile" means a small donation is made to the wonderful work of the Community Trust.
As we head into a busy Christmas period, we thought we'd do something similar through our own website, but to directly affect the work on the pitch.
Which is why we are launching for the next six months, our commitment to Chester FC with our plans to support their Squadbuilder.
BUYCLEVERSTUFF & THE CHESTER FC SQUADBUILDER
If Chester fans buy from us direct online and use the code SQUADBUILDER on our website when checking out - against anything from our soundmaster home audio range – fans will receive 5% off their products – and we here at BuyCleverStuff will match that 5% and donate it to the club's Squadbuilder fund on a monthly basis.
It means the fans get great products, great for Christmas and other occasions such as birthdays, wedding presents and such – with the team on the pitch also seeing the benefit.
Of course, this discount is available to anyone who may use this discount code, and we don't mind if that's the case! If you buy using this code, you'll be buying a fantastic product, and helping a community football team at the heart of Chester!
Whilst our presence stretches across the country and into Europe, we're still based in Chester and are proud to support the community ethos and fan-ownership of Chester FC and hope this goes a long way to helping support the team for the rest of the season!