KB Sound Select Star - Bluetooth & Radio - 5" Ceiling Speakers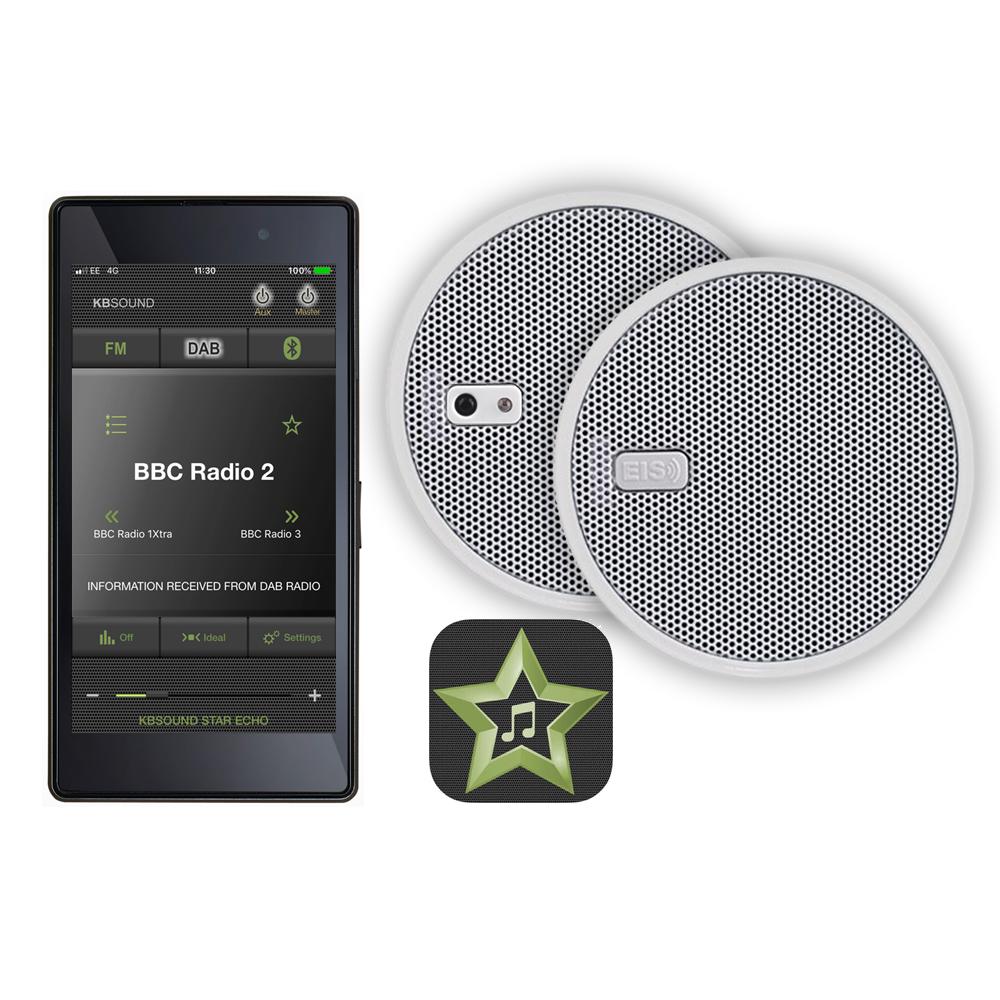 KB Sound Select Star - Bluetooth & Radio - 5" Ceiling Speakers
Close reviews
There are no reviews for this product.
Leave a review
Features

Specifications

Description

Videos

Guides
The KB Sound Select Star - Bluetooth & Radio with 5" Ceiling Speakers is a fantastic Wireless Radio & Bluetooth Ceiling Speaker System for those wishing to have audio in larger rooms of the property.
In-Ceiling Bluetooth Amplifier 
FM or FM & DAB Radio Tuner 
One pair of white 5" Ceiling Speakers 
Free to download app to control 
Works with voice-control systems from the likes of Amazon & Google 
LCD Remote Control - Optional Extra 
| | |
| --- | --- |
| Colour | White |
| Delivery | Next Day |
| Speakers | Ceiling |
| Showroom | Yes |
| Speaker Size | 5" |
| Warranty | 2 Year Warranty |
| Radio | FM or FM / DAB |
| Bluetooth | Yes |
| Amplifier Location | In Ceiling |
The next development in home audio from the KB Sound range sees the incredible KB Sound Select Star.
Built in as standard the amplifier comes equipped with Bluetooth, alongside either an FM or FM & DAB radio tuner (amplifier dependent) - then all you need to use is either your mobile or tablet device to control.
Free-to-download App Control
The free-to-download app is easy and simple to use and understand, and gives you full access for you to control your music however you like.
You can switch between audio sources on the main app screen, change volume, set ideal audio settings and much more.
Ideal for Medium/Large Rooms & Bathrooms
Bundled as standard are a pair of 5" moisture-resistant ceiling speakers, which are fantastic as a single pair solution in medium to large sized rooms and bathrooms, but if you are looking to expand or for slightly larger rooms, then the base amplifier can easily handle an extra pair of speakers.
Not only that but the KB Sound Select Star works as a multi-zone set-up as well!
Go Further With "Dual" Room Use
Add a KB Sound Select Star expansion pack and you can extend into a second room with ease. Your KB Sound Select Star app will also let you select the additional speakers to be turned on or off as and when you need them.
Connect With Smart Home Devices
If you have a smart home device that is controlled using Amazon Alexa or Google Assistant - the KB Sound Select Star is able to be integrated alongside these products for brilliant voice activation!
Simply ensure the unit is open to allow such devices to connect freely and connect appropriately!
If you're well versed with products from KB Sound, in particular the predecessor of the iSelect, or just wish to use a separate remote control instead of only using your mobile or tablet app - then the new KB Sound Select Star allows you to work with an optional remote control as well (additional extra).
The simple to use remote control gives you the same control and functionality as you would have through the app - and work perfectly in sync together. 
Included in the package is everything needed to install the KB Sound Select Star, including speaker wire that for most installations will be sufficient.
Installation is very similar to most other KB Sound In-Ceiling Radio Systems.
Cut out the required speaker holes in your ceiling
Position the amplifier in the ceiling void
Connect to a suitable mains supply
Attach the aerial and connect the speakers to the amplifier
Place the speakers in place using the spring loaded clips to secure
Once complete, it's simply a matter of tuning in the radio, pairing your Bluetooth device to the system and then sit back and enjoy!
Contents:
In-ceiling Bluetooth amplifier with either FM or FM / DAB radio tuner
10 metres of speaker cable
76cm antenna cable
2 x 5" white ceiling speakers (one with LED infra-red sensor for use with optional remote, one passive speaker)
Instruction manual
Specifications:
Amplifier
Power Output: 1.5W / channel
Impedance: 16 ohms
Dimensions: 200mm x 53mm x 56mm (WxHxD)
Inputs: F type connector (radio antenna), 230Vac (mains supply)
Outputs: Speaker connector (left, right, common ground)
Other: LED and infrared sensor connector (for master speaker)
Speakers
Dimensions: 182mm diameter x 57mm depth
Cutout: 150mm diameter
Power handling: 10W (nominal) 20W (max)
Impedance: 8 ohms
Frequency: 90Hz-20Khz
To ensure that your system receives the best possible signal we recommend that you purchase the Omni-Directional DAB Radio Aerial Kit with Cable and Bracket, when bought with any DAB product you get 50% off.