Lithe Audio Three Zone Bluetooth Ceiling Speaker System (6 Speakers)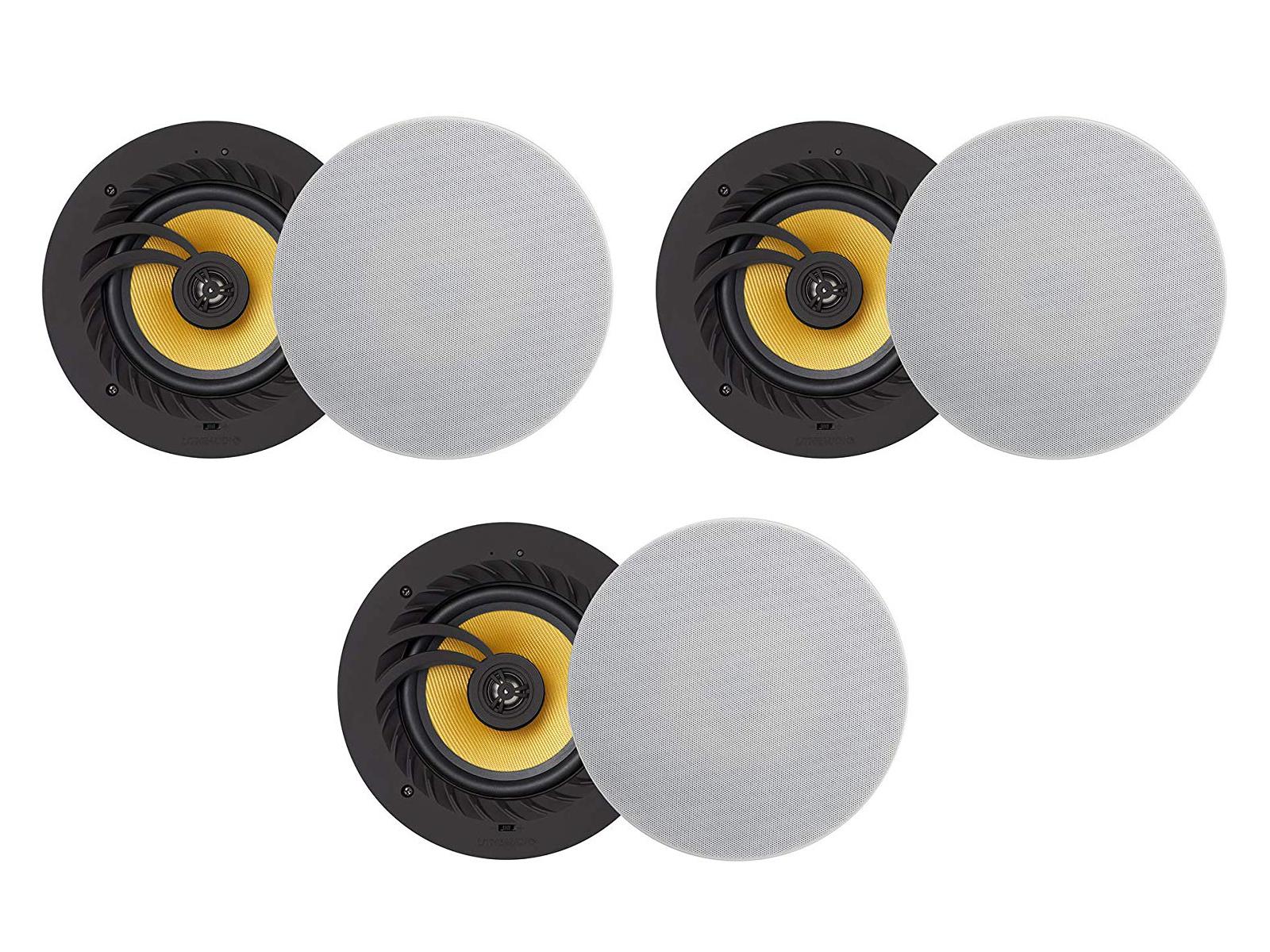 Lithe Audio Three Zone Bluetooth Ceiling Speaker System (6 Speakers)
Close reviews
There are no reviews for this product.
Leave a review
Features

Specifications

Description

Videos

Guides
Get audio across your whole ground floor with ease thanks to this incredible Lithe Audio Three-Zone Bluetooth Ceiling Speaker System!
Built In Bluetooth Amplifier 
Three Zone Bundle - 3x Master & Passive Speakers 
Wireless Connection 
Perfect for Kitchen / Dining Room / Lounge - Ideal Ground Floor Coverage
Amazon Alexa (Echo/Echo Dot) & Google Home (Mini) Compatible 

| | |
| --- | --- |
| Colour | White |
| Delivery | Next Day |
| Speakers | Ceiling |
| Showroom | Yes |
| Wired Audio Input | Yes |
| Speaker Size | 6.5" |
| Warranty | 3 Year Warranty |
| Bluetooth | Yes |
Complete your home audio experience with three zone Bluetooth ceiling speaker set-up.
Bluetooth like never before!
Lithe Audio's ceiling speakers are known for their ease of connection and installation - and now with this triple zone bundle, you can make the most of three zones/rooms instead of just one!
With a minimal amount of speaker cable to run, and simple installation, you can get a brilliant tri-zone audio system set-up that's easy to use.
Audio for an entire ground floor or similar!
This package allows you to fill rooms that are either open plan, which need to stretch over a very large size, or suitable for the likes of a kitchen / dining room / lounge to zone and keep separate, or to bring together as one if you wish.
If you want true multiroom capabilities, then why not consider instead the Lithe Audio WiFi Ceiling Speaker and operate it from wherever you are in the home via the free-to-download app! (This is also more flexible and reliable than over Bluetooth which is limited by range)
It all comes together by linking together the master speakers with 3.5mm jack-to-jack cables in what is known as the Lithe-Link.
Remember to rename your speakers for free with us so you know which set of speakers is which! We offer this free at BuyCleverStuff so it can be customised (up to 20 characters) - if you do not rename, we will simply supply the speakers as a standard numbering so they can be identified.
Brilliant features
A 2-way, 1.2" Titanium directional tweeter found within the 6.5" Kevlar woven woofer cone, driven by an incredible 50W RMS of power from the built-in rear amplifier within the master speaker; this high performance, built-in Bluetooth ceiling speaker system will change the way you integrate audio in your home for years to come.
The strengthened Kevlar cone, in both the Master and Slave, holds its shape when subject to high power yield, yet fast and precise response due to its low mass.
It produces smooth uncoloured mid-tones from its woven textured design, and the high quality rubber-edged surround ensures that the woofers will stand the test of time giving you performance and confidence in a product built to last.
With frameless design, the 3mm thin front grille will attach magnetically and attractively with little protrusion and minimalist design which can still be painted over to match with the colour of your ceiling if you wish to do so.
It can be powered to mains or can instead be run off a lighting circuit - giving you freedom to install in a number of rooms and in a number of ways, if you want it constantly powered, or as an when you want it via a switch.
Play loads of brilliant audio!
After the speakers have been installed and switched on, it is easy to stream sound from any app on your smartphone or tablet device, for instance, Spotify, Deezer, Apple Music, Amazon Prime Music and radio applications, for example, BBC iPlayer Radio or TuneIn Radio.
If you want to integrate the Lithe Audio Bluetooth Ceiling Speaker with an Amazon Echo or Echo Dot device and use Alexa, make sure you select the Echo Compatible option. Otherwise for standard use without using Amazon Echo, the speaker will be PIN-protected with a four-digit code. Please note, it is not possible to change this feature should you wish in the future.
Incorporating other sound sources, for example, TV or CD players, in fact anything that can connect via RCA to the rear of the master Bluetooth ceiling speaker means you can fully enjoy not just Bluetooth audio, but a range of other audio sources which you currently enjoy.
Main Features
Power Output: 50W RMS (from Master speaker only)
Impedance: 8 Ohms
Sensitivity (1W/1m): 90dB
Audio Sample Rate: 8Khz
Line In Analog (RCA), auto-detecting
Type: Class D (Digital)
Woofer: 6.5 Kevlar Woven Cone
Tweeter: 1.2 Titanium Directional Tweeter
Cutout diameter: 210mm
Bluetooth v4.0
Bluetooth Range: 10m
Power Supply: DC24V / 2.5A
Dimensions: (Diameter x Depth) 230 x 140 mm (Master Speaker only)
Weight: 1.72 kg (Master) / 1.53kg (Passive)
Operating Temperature: 0° to 40°C
Storage Temperature: -20° to 70°C
Contents
3x Master Bluetooth Ceiling Speakers
3x Slave/Passive Ceiling Speakers
Power Supplies
Cutting templates
Instruction manual
3x 5m Speaker cable
3x 3.5mm jack-to-jack link cable
3x Ground loop isolators
Fitting with external audio input such as television?

BuyCleverStuff recommends: RCA Phono Male Plug to RCA Phono Female Socket Ground Loop Isolator to ensure best audio quality.

Needing fire & acoustic hoods?

BuyCleverStuff recommends: Lithe Audio 6" - 8" Premium Fire & Acoustic Hood 270 for added protection your home and retain audio leakage into rooms above.