Roadstar HIF-1993D+BT Retro HiFi System with Turntable, CD Player, Bluetooth & FM / DAB Radio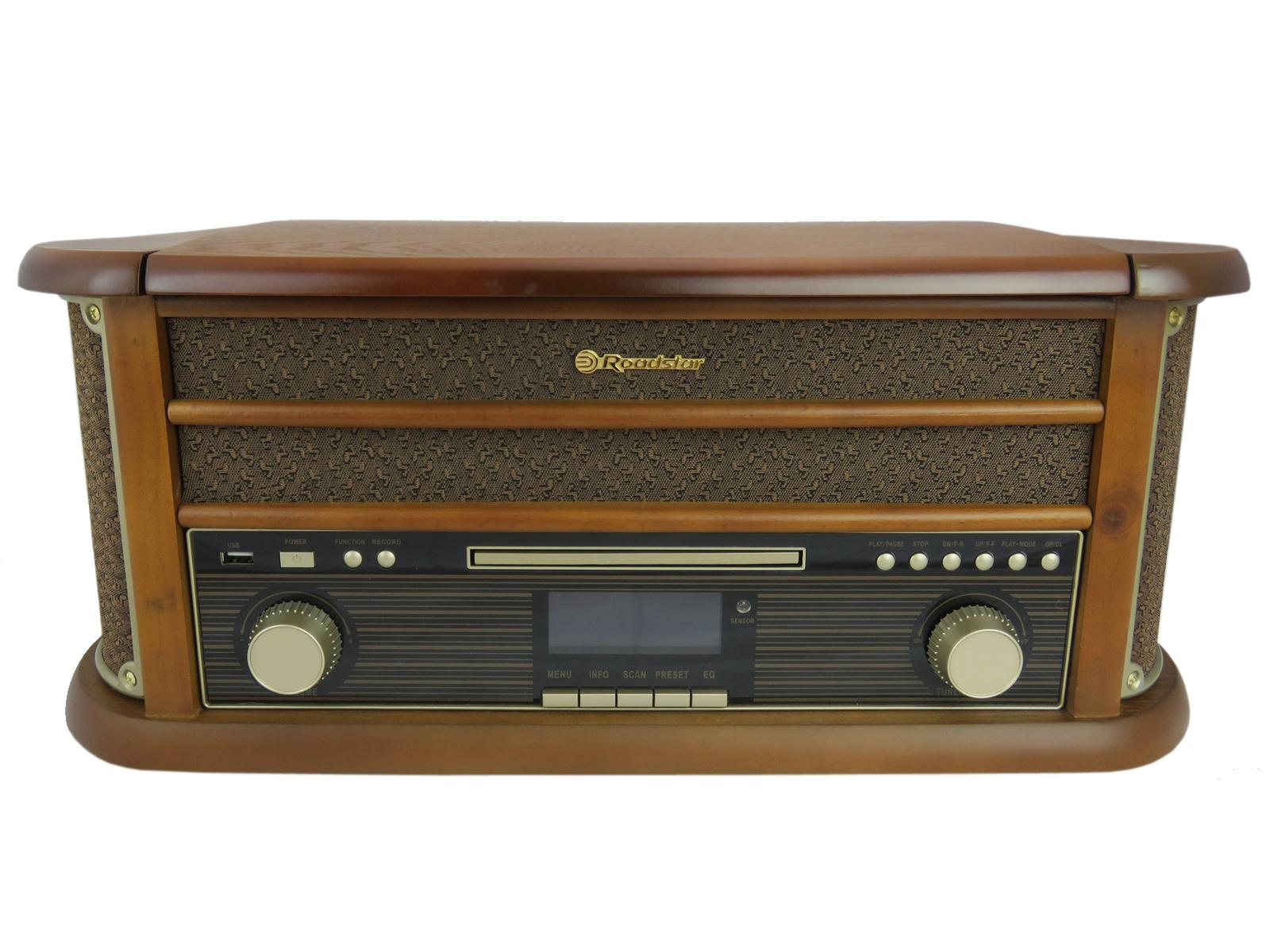 Roadstar HIF-1993D+BT Retro HiFi System with Turntable, CD Player, Bluetooth & FM / DAB Radio
Close reviews
There are no reviews for this product.
Leave a review
Features

Specifications

Description

Guides
If you're looking for a retro-style all-in-one HiFi system, look no further than the incredible Roadstar HIF-1993D+BT with a whole range of audio functions designed to suit almost any home.
33 / 45 / 78 Speed Record Play Turntable
Bluetooth Connectivity
CD-MP3 Player & Cassette Player
FM & DAB Radio
USB & Aux In Available
Remote Control
| | |
| --- | --- |
| Colour | Brown |
| Delivery | Next Day |
| Speakers | Built In |
| Wired Audio Input | Aux In |
| Warranty | 2 Year Warranty |
| Radio | FM / DAB+ |
| Dimensions | 51 x 34.5 x 25 cm |
| USB | Encoding / Playback |
| Bluetooth | Yes |
| Remote | Yes |
| CD Player | Yes |
| Cassette Player | Yes |
| Record Turntable | Yes |
If you are looking for refined and striking home audio system that stands out both visually and in terms of performance, then the Roadstar HIF-1993BT could be the ideal product for you.
This wooden all-in-one HiFi system mirrors the early 20th Century in terms of its style and with the three-speed (33/45/78) built in turntable, you can play classic vinyl records to match the mood.
Whilst it echoes times gone by, the HIF-1993BT is actually quite a modern unit featuring the latest functions.
Connect any Bluetooth device - mobile or tablet - and play any saved music, or through music streaming services. Simply find the HIF-1898D+BT, connect and pair, and play!
As well as revisiting your vinyl collection, this unit is ideal for digging out any CD collections with the built in CD player. It supports CD, CD-R, CD-RW and also CD-MP3 playback.
Another retro element is the inclusion of tape cassette player found discreetly in the side of the wooden chassis so you can reminisce over old mixtapes.
Are you keen on relaxing and listening to radio? You can tune in to your favourite local and national stations with both FM and also DAB + radio.
Not just that but you can also encode audio digitally using USB - which also doubles up to playback for any USB memory sticks you may already have!
With 5W speakers built in to the wooden chassis to produce rich high-quality audio output, you won't be disappointed with the magnificent Roadstar HIF-1993D+BT Retro HiFi System.