Roadstar RCR-777UD+ FM / DAB Radio & CD Player Boombox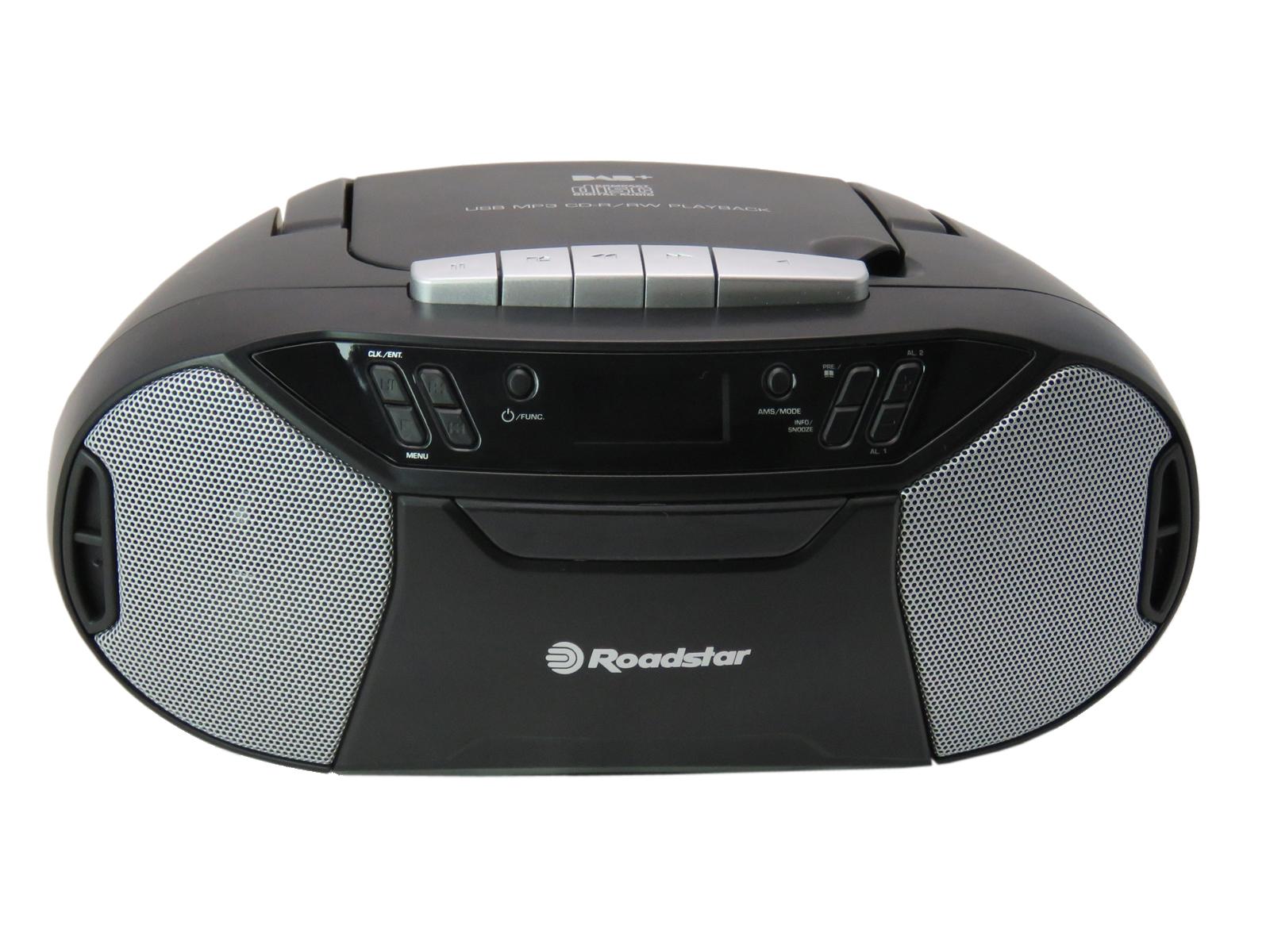 Roadstar RCR-777UD+ FM / DAB Radio & CD Player Boombox
Close reviews
There are no reviews for this product.
Leave a review
Features

Specifications

Description

Guides
The Roadstar RCR-777UD+ FM / DAB Radio & CD Player Boombox, finished in black, is a fantastic simple unit for bringing audio in to your home.
Portable CD Player Boombox 
FM/DAB Radio 
Cassette Tape Deck 
USB-MP3 Playback and Aux-In 
LCD Clock Display 
Mains power or battery (batteries not included) 
Perfect for use in Kids' Bedroom, Garden and Kitchen 
| | |
| --- | --- |
| Colour | Black |
| Delivery | Next Day |
| Speakers | Built In |
| Wired Audio Input | Aux In |
| Warranty | 2 Year Warranty |
| Radio | FM / DAB+ |
| Dimensions | 23 x 30 x 13 cm |
| USB | Yes |
| CD Player | Yes |
| Cassette Player | Yes |
Wherever you want your audio, on the go, at home, or with friends and family - the Roadstar RCR-777UD+ is the portable audio unit for you!
This incredible portable boombox is ideal for use in a variety of ways.
Take it with you out on trips, picnics, BBQs with friends and family or have it for personal office use or for background music whilst you carry out daily tasks around the home.
The Roadstar RCR-777UD+ has a multitude of audio solutions in one complete unit.
For those with a raft of CDs to pick from, the CD player supports multi-format including CD, CD-R, CD-RW and also CD-MP3 files, meaning you can be almost sure your collection will play on this unit.
With the digital FM and DAB tuner built in, you can pick up a range of radio stations and listen in to all your favourite shows with ease thanks to the attached telescopic antenna on the rear.
You also have the option to play USB memory sticks in the USB port or connect other audio inputs using the 3.5mm aux-in socket.
It features two 2 Watt RMS speakers within the chassis of the RCR-77UD+, rated at a constant and consistent audio volume to ensure you won't be let down wherever you are.
And if you want to be more personal, you can, and simply plug in headphones using the 3.5mm headphone socket.
A blue backlit LCD screen shows clearly station, track and time information on the front of the unit, above the single cassette tape deck, and straight-forward buttons around the unit that are simple to use.
Having the ability to plug into mains power or to work from battery power (6x C batteries - not included), means you take this boombox almost anywhere you wish, and is easy to take with you with a sturdy carry handle.
The Roadstar RCD-777UD+ is perfect for almost anywhere in the home, particularly for use in kitchens, outdoors and even as a simple children's audio for their bedrooms.