Sonos by Sonance In-Ceiling Speaker (Pair)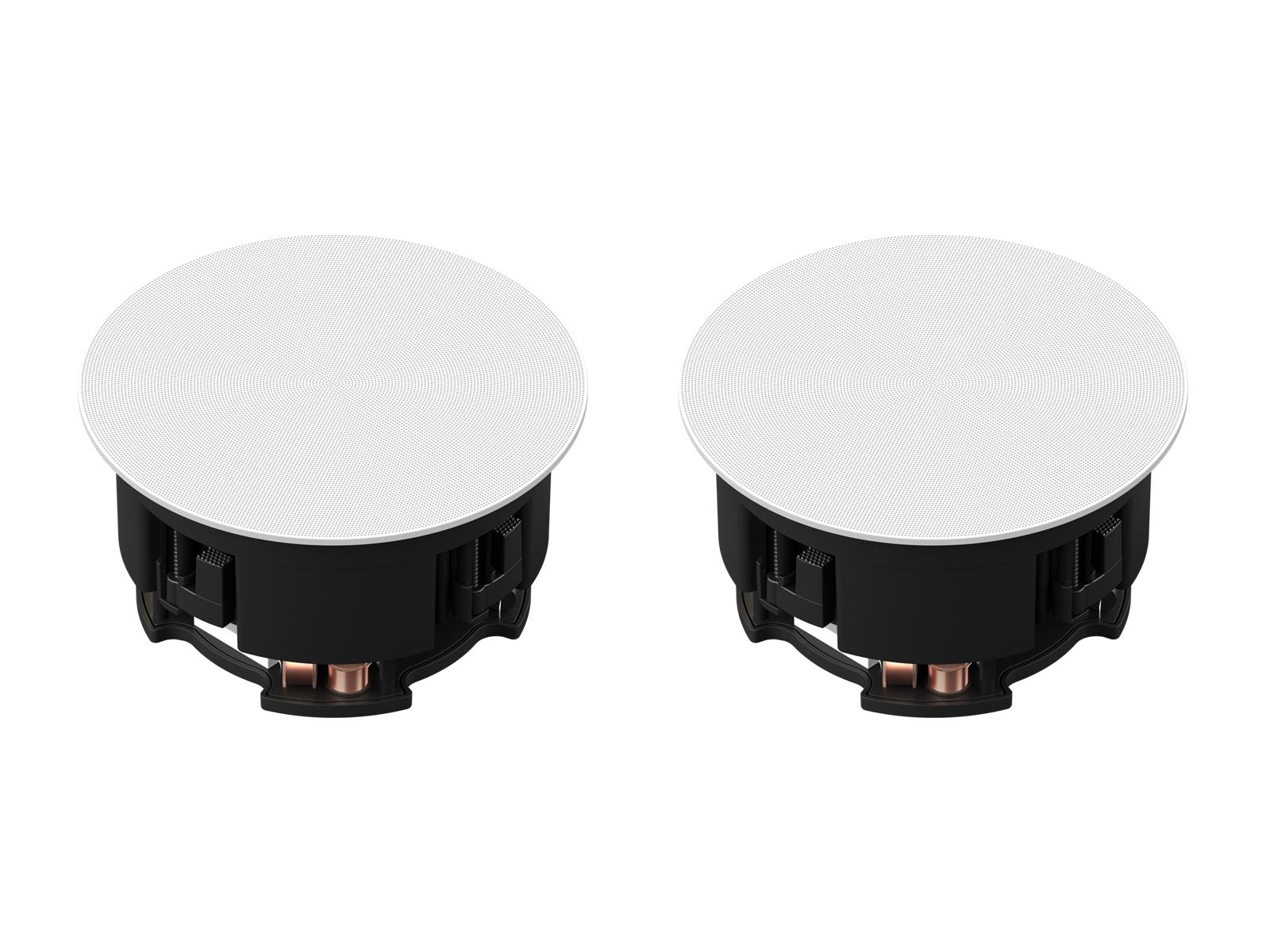 Sonos by Sonance In-Ceiling Speaker (Pair)
Close reviews
There are no reviews for this product.
Leave a review
Features

Specifications

Description
The ideal architectural speakers for ambient listening from Sonos by Sonance - in-ceiling speakers that are easy to install.
Incredible wall-to-wall sound - at any volume 
Specifically designed for use with Sonos Amp 
Utilise Trueplay when connected to Amp 
Amp can power up to three pairs of these speakers 
Passive wired speakers that require an amplifier 
| | |
| --- | --- |
| Colour | White |
| Delivery | 7+ Days |
| Speakers | Ceiling |
| Speaker Size | 6.5" |
| Warranty | 2 Year Warranty |
Both Sonos and Sonance have a dedication to provide incredible sound with great design, which makes their partnership on this range of architectural passive ceiling speakers a perfect match for the Sonos Amp.
Connect and power these in-ceiling speakers with Amp, with custom digital signal processing for enhanced sound, to fully enjoy the Sonos experience, with control via the Sonos app and Apple AirPlay 2.
For comfortable listening anywhere in your room, these speakers give crystal clear sound which is ideal for ambient listening.
TrueplayTM Technology
Amp is enhanced with TrueplayTM, which takes in to account the size, construction, and layout of the room in which the speakers are installed and adjusts for the best possible sound for your music.
When connected to Sonos Amp, Amp will automatically detect them and adjust the sound to be best for that speaker.
This is thanks to the ground-breaking work alongside Sonance incorporating technology in such a way that means these are the only passive speakers on the market to support Sonos' TrueplayTM tuning.
Go Further With Sonos Amp & Architectural Speakers
The Sonos Amp has been designed to power up to a maximum of three pairs of Sonos Architectural in-ceiling speakers on a single Sonos Amp. 
The Sonos by Sonance in-ceiling speakers will be able work with most amplifiers. However, TruePlay room-tuning abilities will only work with the Sonos Amp - you can find find our bespoke bundle packages within our related products on our website.
The specially-designed round grilles can also be painted to match your ceiling.
How To Install?
For connecting to amplifiers, we recommend using specific speaker cable wire that is of 16 ga or larger.
We recommend positioning your in-ceiling speakers that will provide smooth and even balanced coverage in as many locations as possible in the room.
If your room is large, we recommend a second pair of speakers to provide the room with the best coverage and the optimal listening experience.
The speakers should be installed above and slightly behind the primary seating position if you wish to have them incorporated with a 4.1 or 5.1 surround sound system.
Looking To Replace?
If you are thinking of replacing your current speakers, please note that the Sonos In-Ceiling by Sonance speakers uses a cut-out hole that is 8 1/4" in diameter.
If your existing hole is that size, or smaller, the Sonos speakers will fit but may require a small amount of drywall to be removed (if the hole is smaller than 8 1/4").
| | |
| --- | --- |
| Tweeter | Fixed |
| Tweeter diameter | 25mm |
| Woofer diameter | 6.5" |
| Cutout Size | 210mm |
| Power handling | Max. 130W |
| Impedance (nominal) ohms | 8 ohm |
| Response (Low frequency) -3dB | 44Hz-20kHz |
| Maximum rear depth | 123mm |
| Size (with round grille) | 235.4mm |