soundmaster MCD5500 HiFi System with FM / DAB Radio, Twin Cassette, CD & Record Player Turntable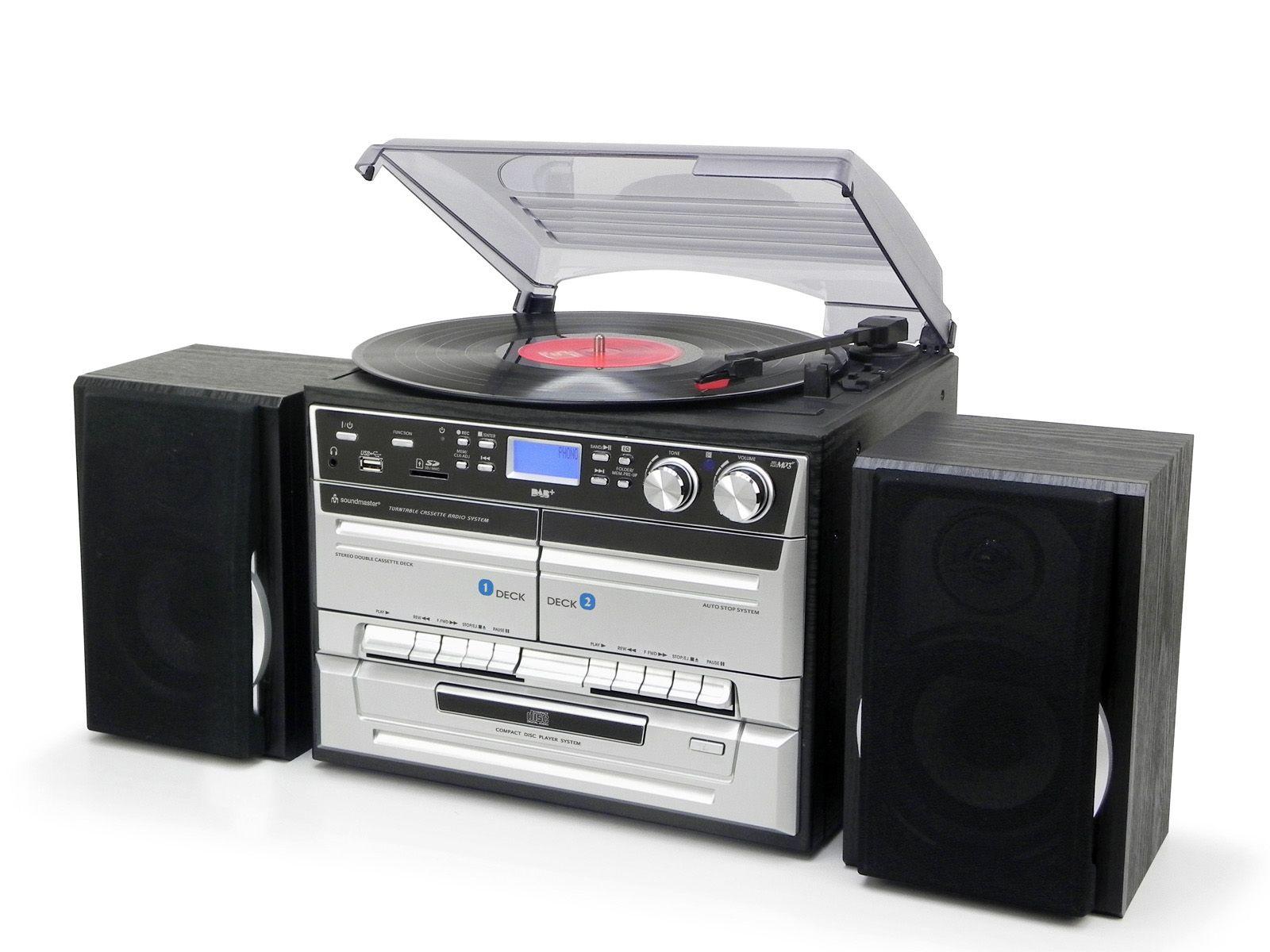 soundmaster MCD5500 HiFi System with FM / DAB Radio, Twin Cassette, CD & Record Player Turntable
Close reviews
There are no reviews for this product.
Leave a review
Features

Specifications

Description

Videos

Guides
The soundmaster MCD5500 HiFi System with FM / DAB Radio, Twin Cassette, CD & Record Player Turntable is a fantastic all-in-one audio system designed with your home in mind.
FM / DAB Radio 
CD & Twin Cassette Player 
Record Player Turntable for Vinyl 
2 x 10W Freestanding Speakers 
Perfect for use in Lounge and Dining Room
| | |
| --- | --- |
| Colour | Black |
| Delivery | Next Day |
| Speakers | Free Standing |
| Warranty | 2 Year Warranty |
| Radio | FM/DAB |
| Dimensions | 32 x 29 x 29 cm |
| CD Player | Yes |
| Cassette Player | Yes |
| Record Turntable | Yes |
With such a range of audio sources at your disposal, you'll never be without audio with this great soundmaster product.
A complete HiFi system, listen to both FM and the increasingly-popular DAB radio for all your favourite radio stations both local and national.
Play CDs with ease, whether standard CD, CD-R, CD-RW or CD-MP3 discs.
There is also not one, but two cassette decks, something which allows you to dig out those forgotten roadtrip mixtapes to relive great memories.
The crowning glory of the MCD5500 is the record player turntable on top of the unit.
With three speeds, 33/45/78 rpm, you can dust off your old record collection and enjoy the sounds of the past, or listen to some of the latest artists who are enjoying recording on to vinyl again.
USB and SD card ports are also included, both for playback and recording; so you can digitise your music collection with just the touch of a button - so you can encode and record from radio CD, tape cassette and vinyl into digital format.
Playback and recording can all be perfomed from the controls on the unit or with the included remote control.
Available in two colours of Black and Dark Brown, it also comes with a pair of freestanding high quality wooden cabinet speakers - perfect to position and angle to your liking to fill your space with audio outputting a total of 20W.
A wonderful design, which lends itself to being in a lounge, dining room, or office / study environment.
As the UK's official distributor of soundmaster products - we provide and fit a suitable 3-Pin UK plug for use straight out of the box.