soundmaster UR2195SI Under Cabinet Radio with Bluetooth & CD Player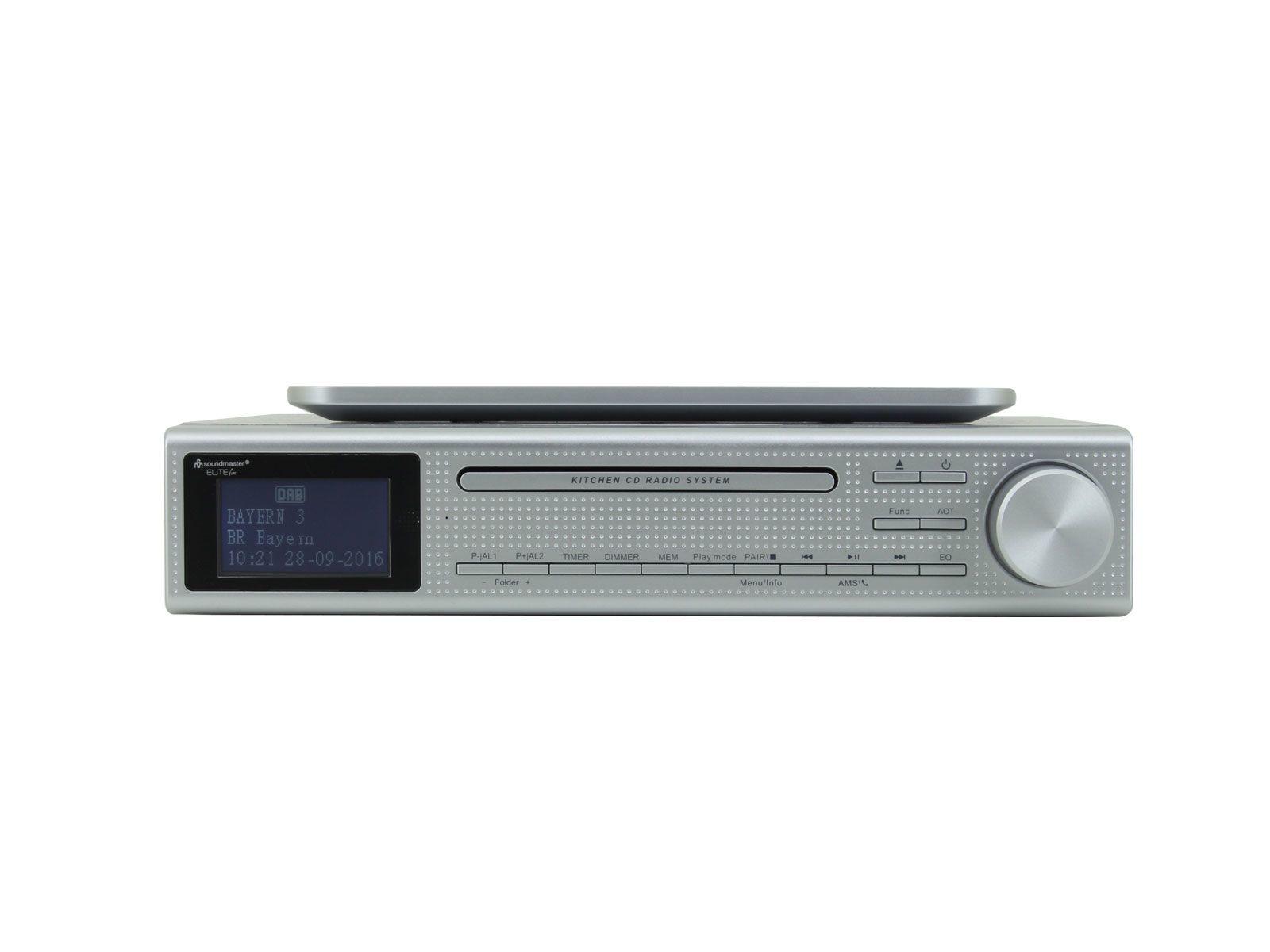 soundmaster UR2195SI Under Cabinet Radio with Bluetooth & CD Player
Close reviews
There are no reviews for this product.
Leave a review
Features

Specifications

Description

Videos

Guides
The all-in-one soundmaster UR2195SI Under Cabinet Kitchen FM/DAB+ Radio with Bluetooth & CD Player brings together all the most popular features and superb sound quality that soundmaster is known for.
FM / DAB+ Radio 
CD Player 
Bluetooth for streaming & hands-free calls 
Timer / Alarm Clock / Date Functions 
| | |
| --- | --- |
| Colour | Silver |
| Delivery | Next Day |
| Speakers | Built In |
| Warranty | 2 Year Warranty |
| Radio | FM / DAB+ |
| Dimensions | 32 x 23 x 8 cm |
| Bluetooth | Yes |
| CD Player | Yes |
With almost a complete range of audio sources available, the freedom to play whatever audio you wish is here.
Simple connection for devices that have Bluetooth connectivity allows you to stream music with ease.
Also, there is a thin discreet CD drive for playing your favourite compilations and album collections.
Straight forward FM and DAB radio so you can listen to popular stations and shows; the choice to what to listen to really is yours.
Not got a mobile device but have MP3 music stored on USB? Plug in to the front USB port and play.
With uncomplicated controls and clear digital screen, it's easy to use to play your music. 
Twin 2-Watt speakers built in to the unit designed specifically to work in a kitchen environment to provide sharp audio whilst you go about your tasks in the kitchen.
Finished in silver, it is a fantastic addition to any kitchen and fits easily beneath most kitchen cabinets, and comes equipped with telescopic antenna.
The latest addition for both the UR2170SI and UR2195SI models is the soundmaster TH21 Smartphone / Tablet Bracket - perfect for having a mobile or tablet secured in place to use as a mini screen whilst you are cooking along with recipes on catch-up TV or videos on websites.
(Please note this bracket is only compatible with UR2170SI models purchased with a serial number greater than 20935 - older units will not be able to use this. If you have purchased the UR2170SI or UR2195SI since March 2017, the bracket can be purchased separately)
When installing the bracket to your UR2170SI or UR2195SI - it MUST be installed with the radio on flat surface, not mounted under a cabinet to prevent damage.
As with all soundmaster products, at BuyCleverStuff as the official UK distributor, we supply as standard a fitted 3-Pin UK plug so it is working straight out of the box when you receive the unit.
*Please note - this item does NOT include a separate USB memory stick as pictured, NOR does it include a tablet. This is only a promotional image of the product.