Systemline E100 & 5" Qi50CW Bathroom Ceiling Speakers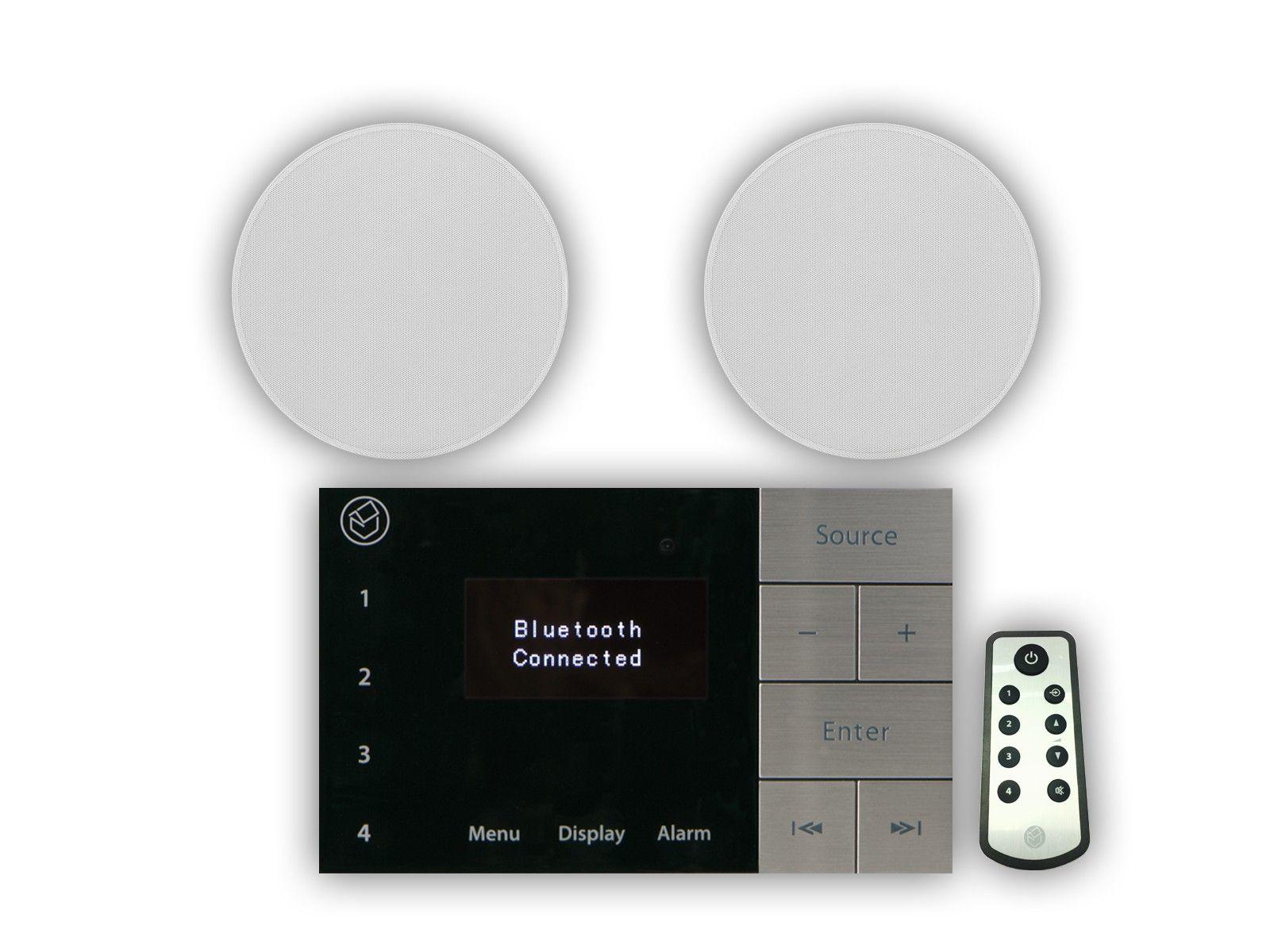 Systemline E100 & 5" Qi50CW Bathroom Ceiling Speakers
Close reviews
There are no reviews for this product.
Leave a review
Features

Specifications

Description

Videos

Guides
This Systemline E100 Bluetooth FM / DAB Radio System with 5" Qi50CW Bathroom Ceiling Speakers has been bundled together specifically with your Bathroom in mind, to deliver fantastic audio in a safe and reliable bathroom / wetroom set-up.
Plays: FM & DAB Radio, Bluetooth & Aux-In 
Supplied with One Pair of 5" Qi50CW Waterproof Speakers 
Ideal for Wetroom or Bathroom 
| | |
| --- | --- |
| Colour | Black |
| Delivery | Next Day |
| Speakers | Ceiling |
| Wired Audio Input | Yes |
| Speaker Size | 4'' - 5.5'' |
| Warranty | 3 Year Warranty |
| Radio | FM/DAB |
| Bluetooth | Yes |
| Type | FM / DAB / Bluetooth |
| Room Size | 4m x 3.5m / Medium |
| Amplifier Location | In Wall |
Included with this package are a pair of Q Install 5" QI50CW Bathroom Ceiling Speakers to fully complement this IP54 rating.
Suitable for use in bathrooms or other rooms with high humidity levels, or even outside with its an aluminium corrosion-resistant grille; these are exceptionally popular and reliable speakers that can handle easily between 15-60 watts.
If comparing in regards to sound quality, these Q Install 5" Qi50CW Wetroom Ceiling Speakers sit roughly between the Qi65C and Qi65CB in terms of performance they feature good bass response, detailed mid-range and extended high frequency range.
These are IPX4 Standard rated, meaning they are splash resistant, can have water splashed on them from all angles at 10 litres/min at a pressure of 80-100kN/m2? for five minutes.
When installing the Systemline E100 in bathrooms, it can be located in 'Zone 3' or 'unzoned' or 'outside zones' of a bathroom with an IP54 rating; this is effectively a minimum of 60cm away from any water source such as taps, basin, bath or shower, on condition that the unit is installed with a bead of silicone around the edge when fitted into a double gang back box - there is an accompanying 47mm deep, dry lining, double gang back box included to help with installation included.
The touch screen in-wall panel comes complete with an integrated Bluetooth receiver and input hub - keeping everything all in the one place in your wall.
Another great plus point of integrated Bluetooth with the E100, beyond secure pairing and apt-X for CD-quality transmission, is that you are able to select a unique device name allowing for multiple units to be installed around the home in close proximity.
With a larger OLED display screen now featured on the panel means you can see even more clearly what is being played on FM or DAB+ Radio stations, and also see when you are connected in Bluetooth mode or to another source that you connect to through the auxiliary input (cable not included).
You have complete control over your system via the in-wall touch screen panel or now with the brushed steel remote control included within the bundle. In Bluetooth mode, you can continue using your Bluetooth-enabled device to control the system, or jog control can be operated from the in-wall touch panel.
Two 7m lengths of colour coded speaker cable is included within for easier understanding of installation, and diagrams can be found on this product page to help and also within our user and installation guides.
This is a simple to install, but effective all-round system that will deliver brilliant audio, not just in a bathroom, but wherever you choose to place it in your home.
Contents
Systemline E100 In-Wall Keypad Hub with Integrated DAB / FM Radio and Bluetooth
DAB / FM Radio Antenna (with extension cable and adaptor)
Infrared Remote Control
In-Line Power Supply
DC Cable (5m)
Double-gang back box (47mm deep, dry lining)
7m Speaker Cable (x2)
Qi50CW 5.25" Bathroom Ceiling Speakers (Pair)
Specification:
Systemline E100 In-Wall Keypad and Integrated Hub
| | |
| --- | --- |
| Dimensions | 151mm x 90mm x 47mm (W x H x D) |
| Inputs |  F Connector (DAB & FM), 3.5mm Stereo Jack (Audio In), DC Jack (18V DC In |
| Outputs | Speaker IMO x 2 |
| Amplifier | 18W Per Channel |
Systemline E100 Power Supply
| | |
| --- | --- |
| Dimensions (PSU Transformer) | 120mm x 35mm x 53mm |
| Inputs | 110-240VAC 50-60Hz 1.6A |
| Outputs | 18V 2.8A |
The power supply comes with a UK 3-pin regional mains cable.
However, if you are outside of the UK, you can use either your own regional mains cable or connect to a spur by removing the plug end of the cable.
This is only guidance, please consult your installer / electrician if considering this type of installation, and only carry out the work with a qualified installer / electrician.
Qi50CW Bathroom Ceiling Speakers
| | |
| --- | --- |
| Tweeter | Fixed |
| Tweeter diameter | 0.75" (19mm) |
| Woofer diameter | 5.25" |
| Cutout Size | 203mm |
| Power handling | 15-60W |
| Impedance (nominal) ohms | 8 ohm |
| Sensitivity | 87dB |
| Response (Low frequency) -3dB | 75Hz |
| Maximum rear depth | 79mm |
| Size (with round grille) | 204mm |
To ensure that your system receives the best possible signal we recommend that you purchase the Omni-Directional DAB Radio Aerial Kit with Cable and Bracket, when bought with any DAB product you get 50% off.