Systemline E50 & 6.5" Qi65CB Ceiling Speakers (2 Pairs)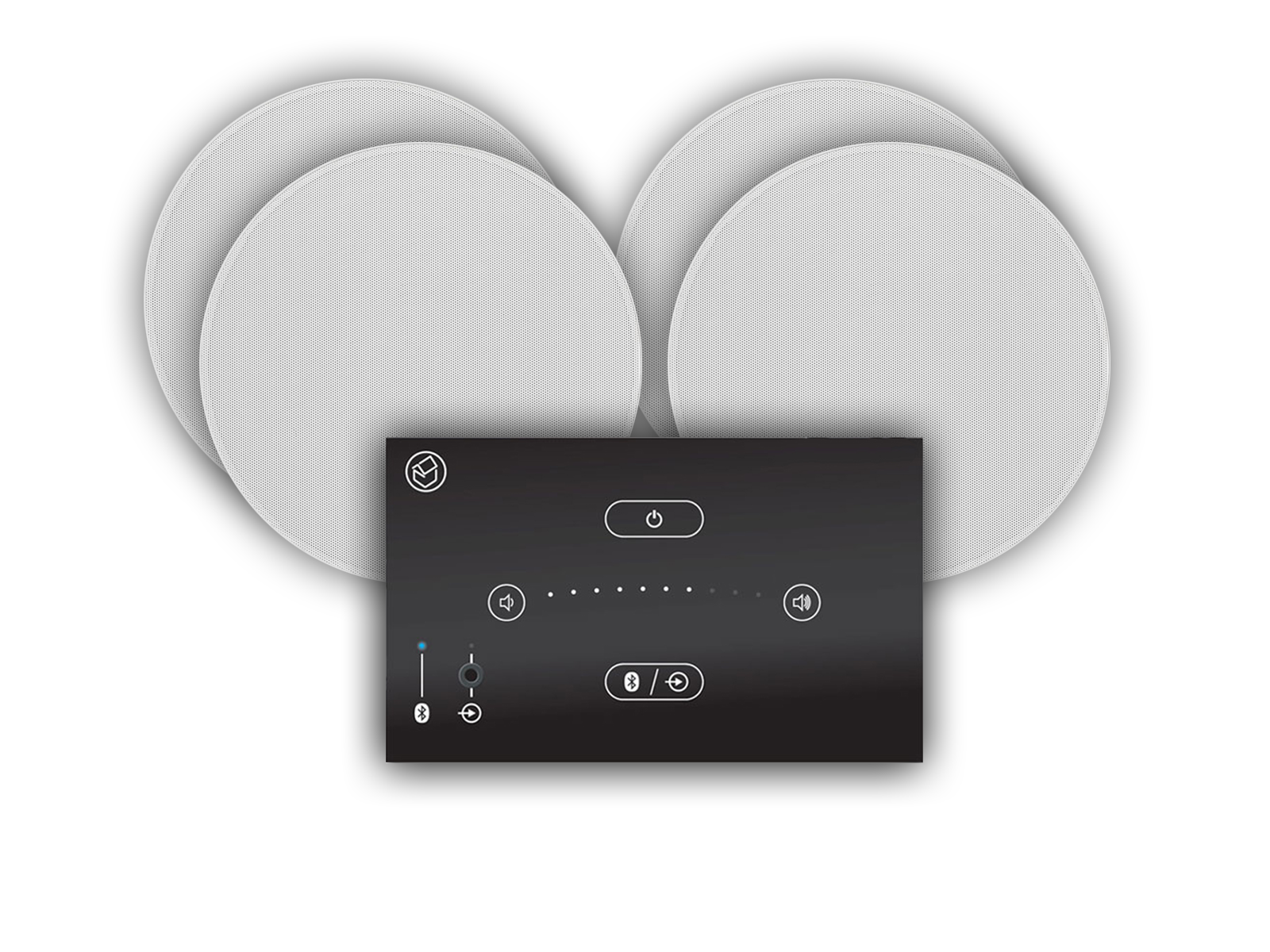 Systemline E50 & 6.5" Qi65CB Ceiling Speakers (2 Pairs)
Close reviews
There are no reviews for this product.
Leave a review
Features

Specifications

Description

Videos

Guides
The Systemline E50 Bluetooth Amplifier paired with two pairs of 6.5" Q Acoustics Qi65CB Ceiling Speakers for larger room spaces.
In Wall Bluetooth Receiver 
Amazon Alexa Compatible 
Front or Rear 3.5mm Audio Input Jack 
2 x 18W Power Output 
Supplied with Two Pairs of 6.5" Qi65CB Ceiling Speakers 
With built-in Bluetooth receiver to pair with your mobile phone or tablet, and both a front and rear line input - it makes the Systemline E50 a perfect audio solution to integrate within your home.
Connect easily with Amazon Echo products as part of a full home automation set-up with lighting, heating and other voice-activated products.
Simple Control Commands
The in-wall panel responds to both touch commands for switching source and power, and motion control to manage your audio with just a swipe your hand or swirl of your finger.
Skipping tracks, changing volume and muting your audio (in either Bluetooth or auxiliary mode) is all possible with the programmed and recognised set of hand gestures-- which will no doubt leave friends and family mystified when they first view it at work.
It also means that greasy finger marks will be kept to a minimum on the stylish gloss black touch panel, however if you ever need to, it is easy to wipe clean and gathers very little dust.
Powerful Audio Amplifier
The stereo amplifier drives 18 Watts per channel, with outstanding sound quality, so not only is it ideal to install in larger, open plan rooms, but in long and narrow rooms too should you wish to combine this unit with a single stereo speaker-- if you are searching for a complete ceiling speaker system, we have a number of fantastic speaker bundle options to select from.
Go Further In Mono Mode
Whilst the amplifier is already in stereo mode, there is the ability to switch it to forced mono mode, meaning all speakers can play out as the same audio, instead of left and right channels only - standing the E50 out above the rest should you want three or even four zone use at a budget price! Note: Your connected device must still be in range of the E50 wall panel. 
EQ settings and maximum volume levels can also be set to your liking with slight adjustments on the rear of the in-wall panel.
Easy To Install
Installation is reasonably easy, with another great addition in this kit being a made-to-measure double gang back box so you are sure that your in-wall panel will fit perfectly into your wall.
Once you have decided where to position your in-wall panel, cut out the necessary holes in your wall, and holes in the ceiling for your chosen speakers. Run speaker cable across your ceiling and down to the in-wall panel hole, connect your speakers, insert them in to your ceiling, connect power to your panel, secure in place, and switch on.
Connect Your TV
If you have a television in the same room, the rear line input is most effective for connection to allow you more freedom to connect other non-Bluetooth devices via the front input jack - essentially enabling control of three different sources.
Please note - this unit is a Bluetooth receiver, not a transmitter. If you are looking to connect an auxiliary source such as a television or other non-Bluetooth enabled device, a connecting transmitter device will NOT work with this system as you require the ability to confirm a pairing code upon initial connection. Fixed wired input for non-Bluetooth devices is the recommended connection via line input.
Included with this package are TWO pairs of Q Acoustics 6.5" Qi65CB Ceiling Speakers - ideal for covering featuring good bass response, detailed mid-range and extended high frequency range; these are exceptionally popular and reliable speakers that can handle easily between 10-50 watts.
Two 7m lengths of colour coded speaker cable is included within for easier understanding of installation, and diagrams can be found on this product page to help and also within our user and installation guides.
We also include in this two-pair bundle an extra 20m of speaker cable to connect to your second pair!
Multiple E50 systems in close proximity - E50 supports up to 10 different Bluetooth addresses. These are required for identification of individual devices when using multiple E50s within range of each other.
Contents:
Systemline E50 In-Wall Bluetooth Touch & Gesture Control Panel
5m Power Supply
47mm Dry Line Double Gang Back Box
2x 7m Speaker Cable (in E50 Box)
20m EXTRA Speaker Cable
4x Qi65CB 6.5" Ceiling Speakers (Two Pairs)
Specification:
Systemline E50 In-Wall Bluetooth Touch & Gesture Control Panel
Dimensions: (WxHxD) 150 x 90mm x 47mm
Inputs: Front & Rear Line In 3.5mm Stereo Jack (Audio In), DC Jack (18V DC In)
Outputs: Speaker IMO x 2
Amplifier: 18W Per Channel
Amazon Echo Compatible*
*Whilst it is Amazon Echo Compatible, as per concerns of mounting the Systemline E50 in a bathroom/wetroom environment, and as we do not provide nor sell the Amazon Echo product, we do not advise positioning Amazon Echo products in bathrooms/wetrooms. Please refer to Amazon on this matter or position the product just outside of the room within range for voice commands.
Systemline E50 Power Supply
Dimensions (PSU Transformer): 120mm x 35mm x 53mm
Inputs: 110-240VAC 50-60Hz 1.6A
Outputs: 18V 2.8A
The power supply comes with a UK 3-pin regional mains cable. However, if you are outside of the UK, you can use either your own regional mains cable or connect to a spur by removing the plug end of the cable. This is only guidance, please consult your installer / electrician if considering this type of installation, and only carry out the work with a qualified installer / electrician.
Qi65CB Ceiling Speakers
| | |
| --- | --- |
| Tweeter | Sympathetic radiator |
| Tweeter diameter | 2.2" (55mm) |
| Woofer diameter | 6.5" |
| Cutout Size | 203mm |
| Power handling | 10-50W |
| Impedance (nominal) ohms | 8 ohm |
| Sensitivity | 93dB |
| Response (Low frequency) -3dB | 77Hz |
| Maximum rear depth | 73mm |
| Size (with round grille) | 232mm |