Systemline E50 White & Qi65EW Outdoor Wall Speakers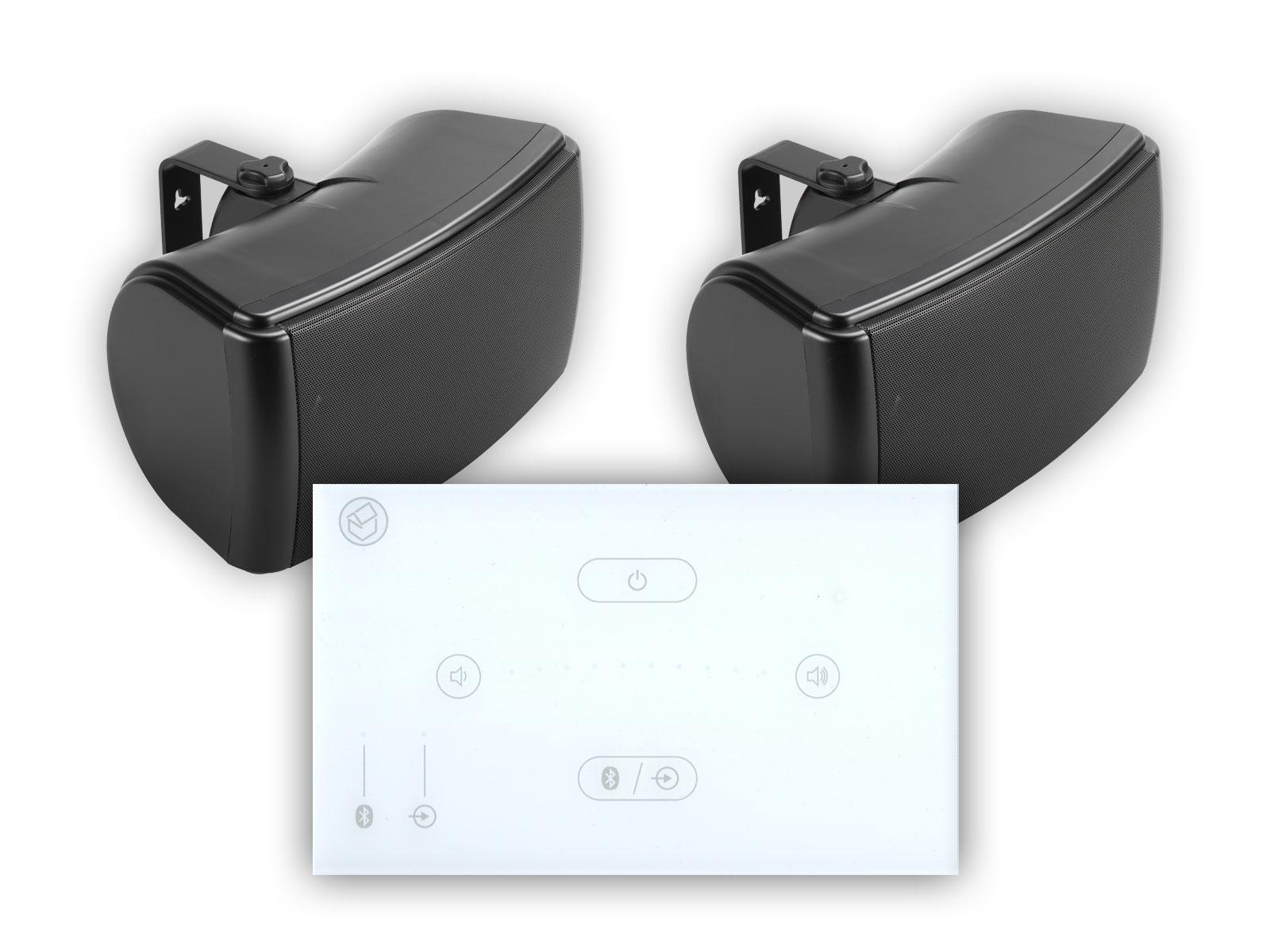 Systemline E50 White & Qi65EW Outdoor Wall Speakers
Close reviews
There are no reviews for this product.
Leave a review
Features

Specifications

Description

Videos

Guides
This exclusive bundle sees the fantastic Systemline E50 White Bluetooth Amplifier & Qi65EW Outdoor Speakers at an incredible price - available from us, a Systemline Elite Partner.
In Wall Bluetooth Receiver 
Amazon Alexa Compatible 
Rear 3.5mm Audio Input Jack 
2 x 18W Power Output 
Exclusive Elite Partner Bundle with One Pair of Q Acoustics Qi65EW Outdoor Speakers 
| | |
| --- | --- |
| Colour | White |
| Delivery | Next Day |
| Speakers | On Wall |
| Warranty | 3 Year Warranty |
| Bluetooth | Yes |
| Amazon Echo Compatible | Yes |
With the summer months approaching, having audio outdoors is a really enticing idea - and with these Qi65EW Outdoor Speakers, the Systemline E50 White is a perfect match for installing a brilliant outdoor audio system.
The touch and hand motion gesture panel integrated Bluetooth receiver, removing the obstacle of needing to find space to accommodate additional equipment, however there is an accompanying 47mm deep, dry lining, double gang back box included to help with installation.
We'd recommend that when installing to position the E50 White panel on the inside wall of the property - however, positioned in such a way you will still get plenty of distance for your Bluetooth connection for outside use.
You have complete control over your system via the in-wall touch screen panel or In Bluetooth mode, you can continue using your Bluetooth-enabled device to control the system, or control from your auxiliary source if using the Aux-in mode.
The stereo amplifier drives 18 Watts per channel, with outstanding sound quality, so not only is it ideal to install in larger, open plan rooms, but in long and narrow rooms if using a single stereo speaker - Systemline E50 White can be used with a number of fantastic speaker bundle options we have available.
Whilst this unit comes with two runs of 7m of speaker cable, this is provided as standard cabling for indoor installation NOT outdoor cable. 
We advise that you do purchase additional outdoor speaker cable that is suitable for use with the Systemline E50. Please select from the options just how much you require. 
You can connect TV via the rear line input allowing you more freedom to connect other non-Bluetooth devices. Overall, this is a simple to install, but effective system that delivers brilliant audio wherever you choose to place it in the home.
Contents:
Systemline E50 White In-Wall Bluetooth Touch & Gesture Control Panel
5m Power Supply
47mm Dry Line Double Gang Back Box
7m Speaker Cable (x2)
Qi65EW Outdoor Speakers (Pair)
Specification:
Systemline E50 In-Wall Bluetooth Touch & Gesture Control Panel
Dimensions: (WxHxD) 150 x 90mm x 47mm
Inputs: Rear Line In 3.5mm Stereo Jack (Audio In), DC Jack (18V DC In)
Outputs: Speaker IMO x 2
Amplifier: 18W Per Channel
Amazon Echo Compatible*
*Whilst it is Amazon Echo Compatible, as we do not provide nor sell the Amazon Echo product, we do not advise positioning Amazon Echo products in bathrooms/wetrooms/outdoor areas. Please refer to Amazon on this matter or position the product just outside of the room within range for voice commands.
Systemline E50 Power Supply
Dimensions (PSU Transformer): 120mm x 35mm x 53mm
Inputs: 110-240VAC 50-60Hz 1.6A
Outputs: 18V 2.8A
The power supply comes with a 2m UK 3-pin regional mains cable. However, if you are outside of the UK, you can use either your own regional mains cable or connect to a spur by removing the plug end of the cable. 
This is only guidance, please consult your installer / electrician if considering this type of installation, and only carry out the work with a qualified installer / electrician.
Q Acoustics Qi65EW Outdoor Speakers
| | |
| --- | --- |
| Tweeter diameter | 1" AL Dome (25mm) |
| Woofer diameter | 6.5" |
| Power handling | 15-80W |
| Impedance (nominal) ohms | 8 ohm |
| Sensitivity | 87dB |
| Response (Low frequency) -3dB | 80Hz |
| Frequency Response | 80Hz-20kHz |
| Size (mm) | 325 x 225 x 180 |
Please note - this unit is a Bluetooth receiver, not a transmitter. If you are looking to connect an auxiliary source such as a television or other non-Bluetooth enabled device, a connecting transmitter device will NOT work with this system as you require the ability to confirm a pairing code upon initial connection. Fixed wired input for non-Bluetooth devices is the recommended connection via line input.