TV Shield Waterproof Outdoor TV Enclosure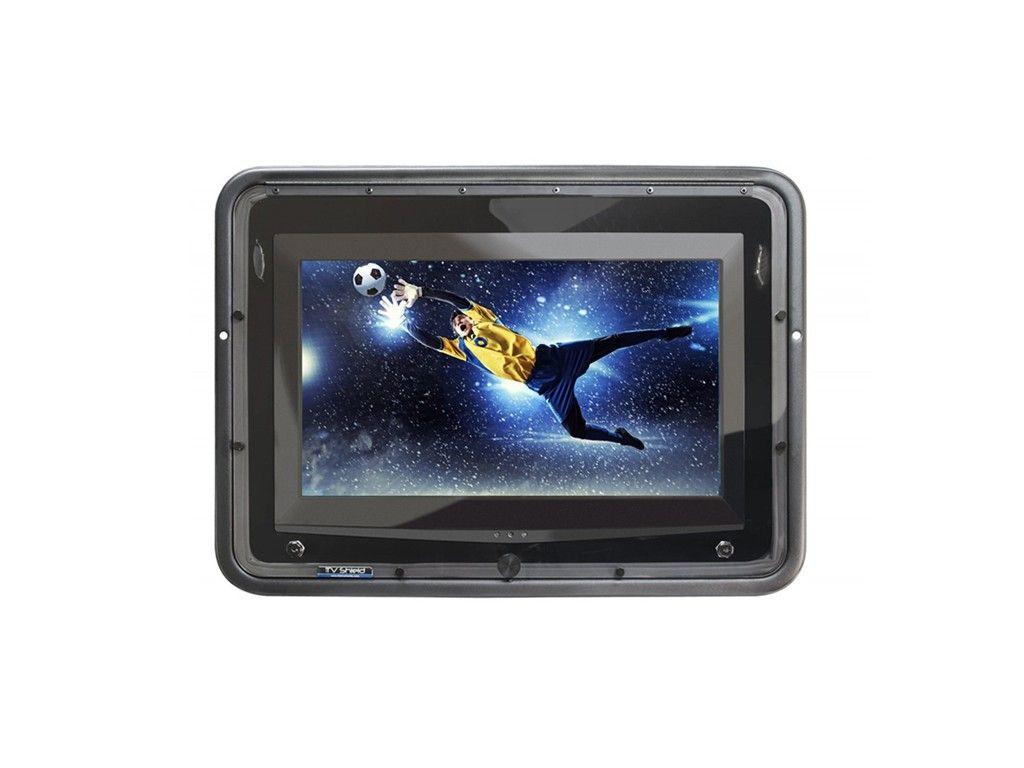 TV Shield Waterproof Outdoor TV Enclosure
Close reviews
There are no reviews for this product.
Leave a review
Features

Specifications

Description

Videos

Guides
This waterproof, dust proof, shatterproof and tamper proof flat screen TV Shield enclosure offers ultimate protection for your TV allowing you to turn it into an Outdoor TV.
Weatherproof & Vandal Resistant 
Fully Lockable 
Available in varying sizes 
Accessories available 
Ideal for use in homes, pubs, clubs and other outdoor events 
| | |
| --- | --- |
| Colour | Black |
| Delivery | 7+ Days |
With industry leading quarter-inch thick optically clear polycarbonate front panel to provide a perfect view of your TV or flat panel display when closed, as well as a direct view of your TV when opened.
WATER/WEATHER RESISTANT
Use any flat screen as an Outdoor TV the entire unit is sealed, engineered to be water resistant and can protect from rain dust and salt water
SECURE
Two keyed & chambered locks protect from theft, vandalism and tampering. Front panel secured to case with security rivets to prevent removal.
LIGHTWEIGHT
TV Shield units weigh 50-75% less than other Outdoor TV Enclosures, made of lightweight but highly durable and long lasting outdoor plastics. Our largest unit weighs 13.2kg our smallest unit weighs 6.8kg.
AFFORDABLE
50-75% less than other Outdoor TV Enclosures.
VERSATILE
Accommodates a 19in TV/flat panel display to a 60in either with the clear front panel open or closed.
DURABLE
Can withstand cold/hot temperatures, direct/long term sun exposure, weather and flying objects. Front panel made from industry leading quarter-inch thick shatter resistant and optically clear LEXAN Polycarbonate, which is the same material used to produce bullet proof glass.
Places you can use The TV Shield:
Outdoor entertainment areas, decks, around your pool etc.

Bars, Restaurants, Stadiums & Hotel Pools.

Hospitals, Prisons, Correctional Institutions, Airports, Hotels, Retail Shopping Centres.

Trade Shows, Events, Corporate Hospitality & Fairs.

Outdoor Displays.

Boats, Docks & Marinas.

Protect from flying Wii remotes, clumsy or curious children, play rooms, game rooms.

Protect or secure a TV or Flat Panel display from tampering & theft.
The TV Shield is a versatile product that can be used to protect your TVs and Flat Screen Displays in a variety of places and environments. The TV Shield is the Ultimate in Indoor and Outdoor TV Protection.
Please note - there is no television included with this product. If you have a television already to place inside, measure your television BEFORE purchase of the TV Shield to correctly purchase the right size. However, if you are first buying the TV Shield, note down the inside dimensions to purchase the correct sized TV.
Inside Dimensions (millimetres)
| Product Size | Width | Height | Depth |
| --- | --- | --- | --- |
| Small (19"-30") | 704 | 501 | 120 |
| Midi (30"-40") | 984 | 596 | 109 |
| Medium (40"-50") | 1149 | 704 | 116 |
| Large (50"-60") | 1409 | 895 | 104 |
TV Shield Accessory Options:
FAN KIT - The TV Shield recommends this fan system with integrated filter and direct wall plug for any unit that is in an environment where temperature can rise for a period of time.
HEATER - Ideal for keeping interior temperature of The TV Shield in cold climates. Simply plug in the heater and turn it on.
ENERGY FILM - This Energy Film is a transparent window film that reduces solar heat gain in summer while allowing maximum visibility. Energy Film blocks 98% (Most UVA and virtually all UVB and UVC) of harmful ultraviolet radiation and blocks 70% of near infrared heat producing wavelengths. The film has good visual clarity with only slight tinting. Energy Film reduces condensation on the window surface.
CLEANING KIT - Cleans all plastics without scratching. Leaves a smooth, clean, grease-free shine that resists fogging, repels dust, and eliminates static. Resists finger marking. Contains no abrasives or harsh chemicals. Never clean plastic with paper towels they can scratch! Reapply regularly to maintain the anti-static, smudge and scratch resistant properties.
MOISTURE GEL CASE - The Dehumidifying Silica Gel Case absorbs dampness inside protecting anything that can be damaged from rust, mildew, and fungus caused by moisture. This moisture absorbing pack prevents condensation from trapped air when a case is in an outdoor application.
Blog